Seamless technology is a must for all modern businesses. Companies today rely on a variety of technologies to facilitate communication between employees, manage relationships with customers, and increase productivity in the workplace. When technologies do not work as they should, the effect on the business can be devastating, resulting in downtime and loss of revenue. This is why it is so important for technology to work seamlessly at all times.
Designing and Building an IT Infrastructure For Your Business
The best way to get a seamless IT infrastructure is to work with an IT company that understands your business's goals. Ciegate's IT professionals can create a custom design for your IT infrastructure that reflects those goals. They can then build this IT infrastructure from the ground up so that it seamlessly scales with the growth of the company over the long term.
Common Business IT Infrastructure Needs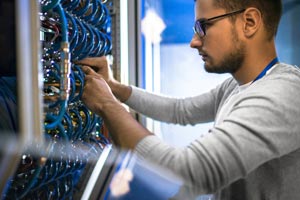 There are a few core components of business infrastructure that every company needs. While every business has its own individual needs, you will need to consider all of the following components when setting up your business IT infrastructure.
Computers: Computers and other hardware are essential for every business IT infrastructure setup. However, today it is not necessary to have all the hardware the business depends on in house. Instead, employees can use computer terminals to access cloud computing services and data storage facilities.
Network Drives: Network drives store files so that employees can access them. The network drive can be located on a networked computer, but this means that employees cannot access the files stored there if the computer is switched off. Many businesses host their network drives on dedicated servers for this reason.
File Sharing: Every business needs a file sharing solution to allow employees to easily work together on important projects. Today, many companies use cloud-based solutions to facilitate file sharing.
Cloud Computing: Cloud computing means that computing services, such as servers, file storage, networking, analytics, and software, are delivered over the Internet. Cloud computing providers bill companies based on the resources they use, reducing the upfront costs they face and helping them spread the cost of their business IT needs. An IT company can help you find the right cloud computing solution for your company, and set up the cloud with a minimum of disruption to your everyday business operations.
Internet Service: To take advantage of cloud computing and other online services, businesses need an Internet connection. A good IT company can help you find the Internet service that provides the connectivity your business depends on.
Business Phones (VoIP): Voice over IP (VoIP) technology is an affordable business phone solution. This technology allows you to conduct voice and video calls using your Internet connection instead of using a regular phone system.
How to Determine The IT Needs of Your Business
While every business IT infrastructure shares a few common components, the individual needs of each company are truly unique. As a result, there is no off the shelf solution that can satisfy the needs of every business.
First, you need to understand your business's IT needs. This involves analyzing how your employees interact with the technology they use every day. Once you have this data, you can begin to design an infrastructure that supports the day-to-day running of your company.
The best way to get the right IT infrastructure for your company is to work with an IT company that is prepared to take the time to fully understand your business's needs and goals. They can then design an IT infrastructure that meets those needs. A custom IT infrastructure supports the way your employees work, making it as easy as possible for them to carry out their daily tasks, communicate with each other and with the customers of your business, and collaborate to complete important projects.
How to Choose an IT Company
Not all IT companies offer the same level of service. If your current IT support company does not understand your business goals or strive to help you set up and maintain an IT infrastructure that allows you to meet those aims, it may be time to consider switching to a new IT service provider.
If you do not know or understand what your IT company is doing for you, it is time to get in touch with them to discuss your business's IT infrastructure needs and find out what upgrade options are available to support your company. If your IT company is not open to helping you meet all the challenges your business faces, research other options for IT companies that could provide you with a better level of service and support.
Why Miami Businesses Choose Ciegate?
Ciegate IT professionals are ready to work with your business to design and build an IT infrastructure that supports your business in every way. If you are ready to set up your ideal IT infrastructure, get in touch with Ciegate today.
Ciegate provides IT support for businesses in all industries located all over Miami. Whether you need help with designing setting up a custom IT infrastructure from the ground up, or you simply want to upgrade or modify your existing IT infrastructure, Ciegate can guarantee 100% satisfaction.